Once upon a time…
…in a land far, far away, also known as Polish Hill, there lived a fairy godmother by the name of Paulette. Every day and sleepless night, she worked tirelessly to formulate and create the most beautiful decor, fit only for a queen. Before we creep into the wondrous adventures of Paulette's hectic and exciting life, let us take a peek inside her studio – where all the magic happens. Resting at the point of Brereton and Dobson sits Paulette's cozy shop that welcomes all who choose to enter, and even those who don't. People come from near and far to meet with Paulette in hopes of turning their dream into a reality. However, the magic does not only lie in Paulette's hands, but also in the structure of the beautiful pieces that she surrounds herself with. Some of these pieces include…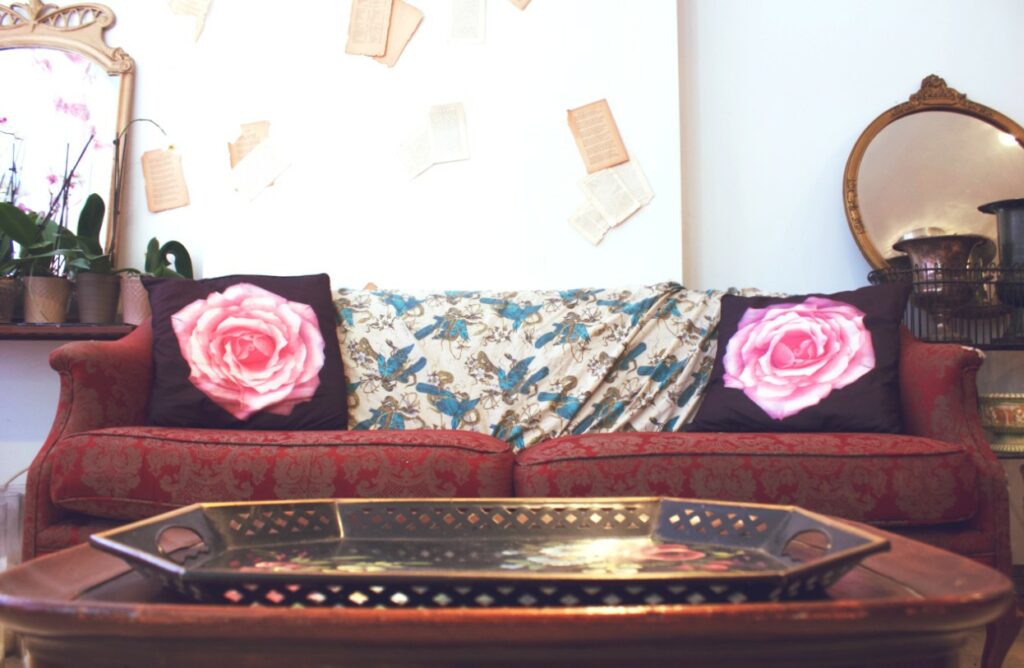 Above is the statement piece of the studio, a couch that I refer to as the throne (you'll understand why later). Before this beautiful couch made its way into the Posy Studio, it sat in one of Pittsburgh's most iconic museums known as Randyland. Why would this seemingly normal couch end up in a museum? Well, before its Randyland days, this couch spent a good amount of years in the penthouse of the William Penn Hotel. This award-winning hotel has been and continues to be visited by some of the most iconic figures in America. The couch itself was in the presence of presidents, such as Ronald Reagan, and highly-favored celebrities, hence why I consider it a throne. When the time came for renovations, the couch was passed on to Randy and just ten years ago, Paulette was pleased to discover it in a community-wide yard sale on the Mexican War Streets. Along with the couch, various antique items can be found around the studio. Attending antique shows and exploring yard sales for hidden gems is one of Paulette's favorite hobbies. She sees antiques as a connection to the past and believes that the past acts as a guide to the future.
When asking Paulette what her favorite decor pieces were, she said that she must have a mirror and unique chandelier or lamp in every room. After taking a look around the studio, this is easy to recognize. Scattered throughout the studio, various mirrors and chandeliers of all shapes and sizes can be found. Despite these being small pieces, she believes that including them is an easy way to bring style into the simplest of rooms. She won't hesitate to snag a mirror as she sees them as a form of art that is always changing.
"Different faces, different views of the room. The beauty of a mirror gets better with age, just as we do." – Paulette
That's a wrap of Paulette's magical Polish Hill studio. Now that we've learned about her love for old gems and her fascination with unique details, it's time that we dive into her world of flowers, design, and love for her role as the fairy godmother.
To be continued….