Questions You Were Afraid to Ask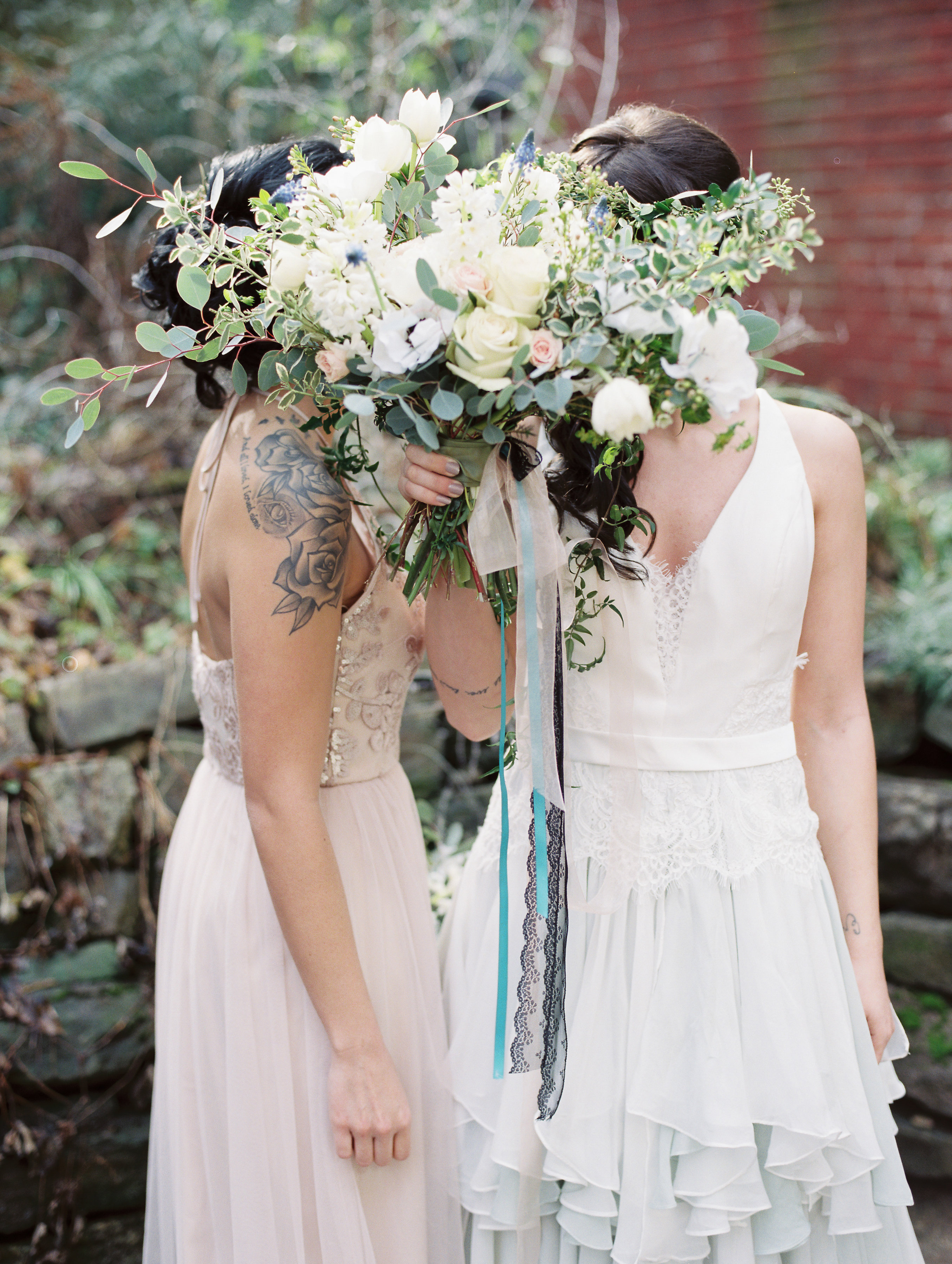 Who is your ideal client?
Everyone is not my customer, and that's okay. I welcome clients who seek inspiration, passion and custom service. My best clients are willing to let me create for them; they trust me, my taste, my style and my process. My ideal clients embrace and appreciate flowers, objects that make them happy, spaces and events that inspire and incorporate their true self. Clients that are not looking for the perfectly round, the symmetrical, the "thing" that everyone has. They quest for the uncommon, the unstructured and the beautifully imperfect. They have an appreciation for a style that is loose, free form, and uncontained. The gathered from the garden look. Their tastes cross the decades. My clients want color, texture, seasonality to guide their personal vision and individual style. If you want no pretenses, but a down to earth, hard working business to service your wedding or event, Posy is your place. If you want an owner with an equaled infatuation for flowers, people and a life lived on one's own terms, I can't wait to meet you. Please see the About page.
Do I really need to tell you my budget? I feel like you are going to delete my contact form as soon as you see what my budget is.
I really need to know your budget. That includes what you can spend PLUS that blasted 7% sales tax and delivery. Please be honest as to what you can spend. That way, I can make an honest determination as to the value I can offer you.
How much should we be allotting for flowers? My mother said she spent $500 on her wedding flowers back in 1984. I have no idea what this should cost.
No worries. I do this all the time. This amount is going to vary. What are your priorities? Good food and top shelf liquor? Chiavari chairs and lovely linens? Or bitchin' flowers? My full service weddings (meaning flowers for every aspect of your wedding) average $3,500, plus sales tax and delivery. Personal flowers only begin at $1,200, plus sales tax and delivery. This isn't set in stone, but it is our average for a well flowered, well designed wedding.
I am trying to save money. Honestly, can't Aunt Carol just pick up the flowers instead of paying you to drop them off?
Sometimes, clients want to pick up their flowers. Unfortunately, I cannot accommodate this request. It is my opinion that your wedding flowers are way too important and your wedding day is too precious to be left to someone who has never worked with flowers nor knows how to care for, transport and keep them. This includes any and all damage that may occur from being transported and handled by someone other than a Posy team member. Your flowers are transported in an air conditioned vehicle. I, upon arrival of your flowers, know where to keep them, how they should be handled in a variety of temperatures and conditions. No matter how large or how small an event, your flowers are ALWAYS accompanied by a capable staff member who will service your wedding flowers, and if needed, are able to make necessary adjustments, pin on boutonnieres and free up your event coordinator to make sure your wedding goes off on time and without a hitch.
I just want a price. Why can't you just ballpark a figure for me?
I have a thorough process before I get to a number for your wedding. Because I want to have the full vision for your event and ample time to price your flowers and décor, it is not possible for me to "ballpark" a quote for you until our first consultation and all details have been finalized. It is best if you give me a price to work from. My full service weddings (meaning flowers for every aspect of your ceremony and reception) average $3,500 plus sales tax and delivery. Personal flowers only begin at $1,200 plus sales tax and delivery. This isn't set in stone, but it is my average for a well flowered, well designed wedding. Posy does not offer packages. Just great flowers and décor customized to your needs.
Our families are going to be in town for the holiday, so we're like, let's just get married then. You're available during that weekend, right?
What a great time to celebrate your wedding during a holiday or holiday weekend! Your guests are usually already in town for festivities or it is a great way for your guests to take advantage of a long weekend in Pittsburgh, right?
Please note that there will be a surcharge and or higher cost for weddings and events that take place during or near a major holiday. The reasons are that obtaining labor is harder and paying personnel/labor is higher. Also, flower prices tend to be much higher (as much as four times) during certain holidays (especially Valentine's Day, Easter, Mother's Day, Thanksgiving and Christmas) and flower availability may be more limited.
A surcharge/higher rates will apply on or near the following holidays, including weekends:
New Year's Eve (availability concerns)
New Year's Day (availability concerns)
Civil Rights Day
Valentine's Day (higher flower prices/availability concerns)
Easter (higher flower prices/availability concerns)
Mother's Day (higher flower prices/availability concerns)
Memorial Day
Independence Day
Labor Day
Columbus Day
Veterans Day
Thanksgiving (higher flower prices/availability concerns)
Christmas (higher flower prices/availability concerns)
Do you travel? How far do you go?
Honey, I love to travel! From just outside of the Pittsburgh area to another state, to another country. There is a $5,000 minimum plus sales tax and delivery for weddings more than 45 minutes from Pittsburgh. Out of state weddings require a $6,000 minimum plus sales tax and delivery in addition to travel costs. Contact me directly for destination wedding prices. I've been known to go to:
Delaware
Kentucky
Maryland
New York
Ohio
Pennsylvania
Virginia
West Virginia…Beyond
But I have my own containers!
I understand that you have your own vases that you would like us to use. And I think that is great.
When that is the case, please note that:
I use professional grade, weighted containers, which contribute to the balance and stability of each design. When I am using vases/containers that you provide, I cannot assume liability for loss or breakage.
There is no discount to the flowers for using containers that you provide. There remains the same amount of flower cost, time, work and labor if I were using our own containers, not to mention the handling and setting of the vase.
Posy is not responsible for your containers at the end of the event. Please make arrangements with the reception venue to collect and store your items.
The same applies to bringing your own votives, candles and the like.
Okay, I want my bouquet delivered to my hotel suite, the Groomsmen boutonnieres brought to the church and oh, someone needs to get my Mom her corsage because she is getting ready at her salon.
Regardless of the size of your wedding/event, Posy has a base delivery charge. If your ceremony and reception are not at the same site, there will be an additional fee for delivery. There will also be an additional fee for multiple deliveries, such as when we deliver to a separate hotel, salon, private home and the like. Larger weddings that require multiple deliveries or multiple vehicles will incur an appropriate additional delivery fee.
What if I want the flowers available for our first look or for photos?
I am happy to have your flowers available for you and your wedding party if photos are being taken before the ceremony. There will be an additional charge for delivery to a location other than your ceremony or reception venue. Please consider that the flowers will be out of water for some time, therefore prone to wilt in heat, cold, humidity or a warm car or limousine. They are also prone to damage from being held, actions for photos (such as having the wedding party jumping up while holding the flowers, flowers being laid on the grass/ground for a photo, flowers being propped against chairs or gates, etc.) Posy is not responsible for the flowers once they leave our care. I cannot guarantee the condition of the flowers or how they will look for the ceremony. Please consider having a second bouquet/boutonniere for this purpose or reserving the personal flowers for the ceremony. Please consult with your photographer or videographer about how the flowers will be staged or used during your wedding photos. Posy is not responsible for damage or the condition of the flowers from the handling or usage by other vendors.
How do I know if you will service my venue?
Some of the areas loveliest, most beloved and popular venues (not to mention some of my personal favorites) come with challenges for vendors, particularly for flowers. These challenges include entering and exiting, size of loading docks, difficult parking or lack of parking, small elevators/very slow/ shared elevators, insurance rules/requirements, multiple flights of steps, lack of carts, small doorways, setup and take down restrictions, short time for setup, stringent/rigid venue rules, limited access to water/sinks, inability to setup venue until venue or museum closes, dress codes, to name a few.
Because of these issues, it requires more time, staff, expertise and pressure to our routine. Therefore, I take these more challenging venues on a case by case basis and at an additional surcharge.
Hey, I contacted you first. Why can't you do my wedding?
A greater balance in my work and home, and working with events and clients that value my creativity, energy and vision is something I strive for in business. Posy takes weddings and events on a case by case basis to ensure that I am making best use of talents, resources, people and most of all, being of best value and creativity to my clients. Please do not be insulted or disappointed if I cannot take on your wedding or event. If Posy is not the best fit for you or your event, I feel obligated to make sure that you can move on to find the best business/designer for the job. I reserve the right to choose the wedding/event that most suits my workload, availability and best practices. It is not my practice to hold wedding dates without first having a consultation to make sure we are a good fit, a formal quote approved, received a retainer and a fully signed contract.
I want you and you only to do our wedding. How can I guarantee that you won't take on another wedding on our date?
Yes, I am totally flattered when you want us all to yourself on your wedding/event date. But it must fit the bottom line, if you understand. I only guarantee that your wedding/event will be the sole event that day only if it a full service wedding or event with a minimum budget of $5,000. Otherwise, it is possible that we will have a $3,500 full service wedding and $1,500 bouquet and boutonniere only wedding on the same date. We will do up to three bouquet and boutonniere only weddings per day. Posy reserves the right to choose the wedding/event that most suits our workload, availability and best practices.
These inspiration photos are great and all. But what I'd really like to see is a sample!
I am able to create a sample of any part of your event, from bouquet to centerpiece to archway. The sample is at full cost plus any applicable delivery fee. This charge is separate from your wedding flower quote and the two cannot be combined. Samples should be scheduled closer to the event date to ensure that the exact flowers chosen for your event are in season and available.
What if I am shopping around?
Who doesn't want the best price on donuts, shoes, that flight to OBX and of course, your wedding flowers?! No need to sneak around (trust me, I can smell another florist on you). But please let me know if you are price shopping. My ideal clients are willing to let me create for them; they trust me, my taste, my style and my process. I have a thorough process before I get to a number for your wedding. I put a lot of time into inspiration boards and quotes, only to find out there was another vendor already in mind. Please remember this. Each floral designer is different. And I certainly am. My flower sources may be different. My mechanics are different. I will not have similar flower counts. My idea of size and the other designer's idea of size will not be the same. What I pay my staff and my studio overhead will be different from the other designer. I do not price compare nor will I compete on another designer's quote. If you already have a great quote from another designer, I do not want to stand in the way of you getting the best deal for your budget, nor do I want to undermine the time, talent and hard work of the designer who gave you the competing quote. Posy values community over competition.
Wait, my question isn't on here!
No worries. Contact us with your written questions.
contact